And this means I am quilting again and there will be quilt-related posts!  For right now, however, as I had a red-eye flight, a bus and a boat to get home, resulting in minimal sleep, I have nothing of my own to show.  Instead I'll share some plans and the inspiration for them.
Somehow this month I have acquired two new projects.  One is the free motion mystery quilt at The Inbox Jaunt. We're just in week two and have only done a grid (or other people have, I am still at the choosing fabrics stage), so if you are interested, it's a good time to join in.  Lori Kennedy does some beautiful quilting and has some very helpful tutorials for her designs.  Here's an example of something she explains how to do:
The tutorial for the poinsettia design is here.
The second project I have acquired is a sweet sixteen quilt.   I have tried to cut my scraps into useable sizes with the intention of doing a leader-ender quilt (which I always call a lender/ender quilt in my mind) a la Bonnie Hunter.  The scraps size I have the most of is 2 1/2″ squares, but my challenge has been that I can't decide what quilt to make with my scraps.  I tend to prefer more planned scrap quilts to the 'grab whichever two scraps are at the top of your pile' style, and I have had trouble committing to a design.  Sarah at Confessions of a Fabric Addict is hosting a Sweet Sixteen Quilt Along. She started with easy ways to make 16-patches, and over the next weeks she will be sharing various quilts that can be made using them.  The first design she shared is from the quilt in the feature image of this post.  Hopefully by the end of the 8 weeks, I'll have a bunch of 16 patches and a design that I want to use them in.  Fingers crossed!
Currently some of the quilts filling my head with ideas for the 16 patches are below.  You'll see that some of them aren't even 16 patches. But I look at those quilt and think I might just be able to do something similar with my 16 patch blocks.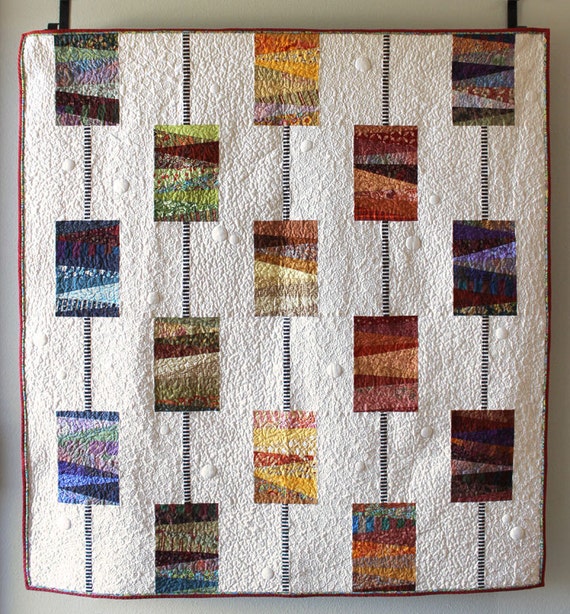 And one more that doesn't allow me to link the picture, but I will link to the blog: